Our homes showing support for our healthcare heroes!
A message to our Community:
We are living in unprecedented times.  The current pandemic, which has been identified as Coronavirus or COVID-19, has the Country on emergency mode, and rightly so.  Our focus at Community Living Options remains on the health and welfare of our members and employees.
CLO has a robust plan for emergencies and many of those protocols have been called into action. You will find some of these listed below.  The staff at CLO are trained and are prepared. The spirit and dedication of our employees continues to amaze me in spite of the uncertainties surrounding this crisis.
CLO is actively monitoring the situation and following guidelines from the Centers for Disease Control and Prevention (CDC) and the World Health Organization (WHO).  In the event of a substantial community-level outbreak in the Kalamazoo area, we may need to modify program availability, including closures of some programs.  We will continue to keep you informed as the situation evolves.
TOGETHER WE ACHIEVE
Fiorella Spalvieri
Executive Director
Community Living Options
In addition to the other resources that CMHA has provided over the past several weeks, MDHHS has set up a hotline at
1-888-535-6136
to answer health-related questions about the virus. It will be open from 8 a.m.-5 p.m. seven days a week.
A message and Resources from INTEGRATED Services of Kalamazoo
ISK is teaming up with community partners including Gryphon Place to offer support and resources for staying safe, healthy and resilient during and after COVID-19 crisis. To that end, we have created this video to share with the community, help normalize our current situation, and share a message of hope for the future.
Please click on image for video
REFOCUS, RECONNECT, RECOVER:
ISK initiative aims to help community cope with pandemic trauma, prepare for "new normal"
Kalamazoo, Mich. – In response to the unprecedented behavioral health impact of COVID-19 in Kalamazoo County,  Integrated Services of Kalamazoo (ISK) is teaming up with area partners to offer the community essential support and resources for staying safe, healthy, resilient, and hopeful, both during and after the pandemic.
With the Refocus, Reconnect, Recover campaign ISK aims to help the community cope with the trauma and disruption of the pandemic by:
Reminding people that it's normal to experience mental and emotional distress related to a disaster, and there is help available.

Connecting individuals with easily accessible mental health resources.

Inspiring resilience and hope as we face a "new normal" together.
ISK will promote the 269-381-HELP line, provided by campaign partner Gryphon Place, as the community's go-to resource for emotional support or crisis intervention. The HELP line is free, confidential and available 24 hours a day, 365 days of the year. Community members can also get connected to local resources (like housing and utility assistance, food pantries, non-crisis mental health services, and more), by dialing 2-1-1.
In addition to Gryphon Place, ISK is partnering with the Kalamazoo County Department of Health and Community Services on the campaign.
Pandemic-Focused Workforce Development
More information is available at www.iskzoo.org or by calling 269-373-6000.
ISK is on Facebook at www.facebook.com/KazooCMH.
Community Living Options is dedicated to the health and safety of our staff and consumers. 
CLO is implementing the following protocol for all visitors, staff, and consumers in order to reduce the spread of coronavirus.
Any visitors/staff arriving at our homes that appear sick will not be allowed in the home. We may ask you to have your temperature taken before entering.  Once you have entered the home we ask that you use the hand sanitizer supplied at the front door.
All Visitors must sign in as we need to track who comes into our homes. After this is completed please wash your hands for 1 minute prior to attending to your reason for the visit.
Consumers attending day program and other community outings will be asked to use hand sanitizer as well upon entering the home, then directed to wash their hands.
Community outings will be limited as the spread continues and this will be at the discretion of the supervisor.
Staff will take consumers temps each morning and document their findings.
Staff will monitor the following symptoms: fevers over 100.4, cough, shortness of breath, and a sore throat.
Please report any symptoms you notice to your supervisor or on call.
If any of the above symptoms are reported we will begin to quarantine the consumer in his/her bedroom and staff will take all meds, meals, and needed items to the person in their room.
The supervisor will guide staff on a case by case basis and the severity of the symptoms.
We will provide staff with mask, gloves, and gowns for their protection as well. Remember the best defense is to wash your hands and keep all commonly touched items disinfected.
Staff are encouraged to visit the employee portal for additional information.
Accreditation Accomplishment!!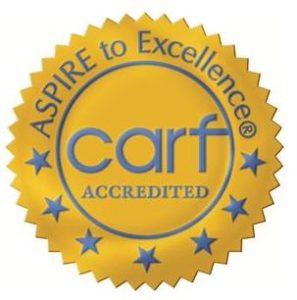 CARF International is a private, non-profit organization which promotes the quality, value and optimal outcomes of services through a consultative accreditation process.  The goal is continuous improvement of services which center on improving the lives of persons served.  Each CARF accredited organization is reviewed every three years.  Standards, are current and field driven and reviewed by peer consultants who work in the same type of organizations that they are reviewing.  On March 6-8, CLO was visited by 2 surveyors who reviewed all business practices ( Leadership, Health and Safety, Human Resources, Finance, Strategic Planning, Accessibility, Technology, Performance Measurement and Management, Input from Persons Served, Legal Requirements and Risk Management) and everything related to program – Medications, Program Service & Structure, Individual-Centered Program Design and Delivery as well as our specific programs – Community Housing, Community Integration (the Alcott Center) and Supported Living.
I am happy to report that Community Living Options received ZERO RECOMMENDATIONS. In fact, CLO has received zero recommendations during 6 of the last 8 surveys. This is all the more remarkable given only 3% of the organizations receive 0 recommendations.  CARF conducts more than 2800 surveys a year.
We could not achieve this milestone without the hard work of each and every employee of CLO.  From Support Staff to Executive Director to Board of Directors, we take the responsibilities of service to the people we support seriously, and it shows.
Support us by shopping on Amazon Smile!

What is AmazonSmile?
AmazonSmile is a website operated by Amazon that lets customers enjoy the same wide selection of products, low prices, and convenient shopping features as on Amazon.com. The difference is that when customers shop on AmazonSmile (smile.amazon.com), the AmazonSmile Foundation will donate 0.5% of the price of eligible purchases to the charitable organizations selected by customers.
How does AmazonSmile work?
When first visiting AmazonSmile, customers are prompted to select a charitable organization from over one million eligible organizations. In order to browse or shop at AmazonSmile, customers must first select a charitable organization. For eligible purchases at AmazonSmile, the AmazonSmile Foundation will donate 0.5% of the purchase price to the customer's selected charitable organization.
Is there any cost to charitable organizations or to customers?
No. There is no cost to charitable organizations or to AmazonSmile customers. The shopping experience is identical to Amazon.com with the added benefit that the AmazonSmile Foundation will donate to the charitable organizations selected by customers.